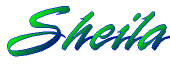 Sheila Kelley has an unmistakable presence — a sensual honesty which inspired critic Sheila Benson to hail her as "extraordinary and luminous." This quality has shaped her career and continues to propel her forward.
Kelley has been very busy since she left her regular role on NBC's L.A. Law in 1993. Her most recent work has been in Neil LaBute's film, Nurse Betty with Morgan Freeman and Chris Rock. It premiered in September. She also has a recurring role as the schizophrenic Coco on the NBC series ER.
Sheila Kelley spent three years as Gwen Taylor, Arnie Becker's stunning secretary on NBC's L.A. Law. Playing Gwen, Kelley redefined the term sultry. Her integral sensuality and assertive repartee proved the perfect counterpart to Becker's sly charm.
Sheila then made three films, The Secretary, Mona Must Die, and Rules of Obsession, before taking a short break to give birth to her, now, five year old son. (November 7).
When the baby, Gus, was four months old, Sheila made her Broadway debut in a short running play called, My Thing of Love. In the summer of 1995 Sheila signed on for the final season of Sisters" playing long-lost sister, Charlie Bennet.
She then took a short hiatus to return triumphantly to the stage to play Blanche DuBois in Tennessee Williams' Streetcar Named Desire at A.C.T. in San Francisco.
Sheila's film career also included co-starring in Warner Brothers' romantic comedy Singles directed by Cameron Crowe, also starring Matt Dillon, Bridget Fonda, Kyra Sedgewick and Campbell Scott. As Debbie Hunt, Kelley portrayed a desperate, single woman looking for love when love wasn't looking back.
Sheila Kelley also appeared in John Sayles' critically acclaimed Passion Fish which stars Mary McDonnell and Alfre Woodard. She also starred in a 30-minute Showtime exclusive titled Private Debts as Jessie Burdette, a woman forced to endure the wrath of her entire town after her husband embezzles money from the Farmer's Co-op, ultimately placing the communuity's financial life blood in jeopardy. This film won the Houston Film Festival's Best Short Award.
The daughter of an engineer/inventor, Sheila was born in Greensburg, Pennsylvania. She is the youngest of nine children which include three lawyers, a geophysicist, a geologist, a school teacher, a graphics artist, and a nurse. Trained in classical dance, she often soloed with the Westmoreland Ballet Company. After winning a dance competition, she was accepted into New York University's Tisch School of Arts. Suffering a leg injury, in her second year she renewed a latent interest in acting and transferred to NYU's Theater and Film Department. Kelley transferred again and graduated from NYU's Film School.
An assortment of theatrical and student film productions ultimately led Kelley to form her own theater company called The Elephant Group. While with the group, she appeared on stage in The Seagull, Lovers, Winners, The Taming of the Shrew, and Am I Blue. She also directed and wrote several small films. Her acting performances, combined with reviews praising the actress's remarkable depth, quickly established her within the N.Y. theater community.
Sheila Kelley has been busy co-writing, producing and acting in the film, Dancing At The Blue Iguana with director Michael Radford, director of the Oscar-nominated Il Postino, White Mischief, and 1984. It premiered at the Toronto Film Festival in September. She is married to actor Richard Schiff. Who, at the same time, is enjoying his own success in the emmy award winning NBC television series, The West Wing. Richard himself has won an emmy in the category Outstanding Supporting Actor In a Drama Series. They have one son and a brand new little girl.
Inspired by such performers as Peter Sellers and Giullette Masina, Sheila Kelley continues to search for meaning in her work and meaningful roles continue to be awarded this unique actress.